Endress+Hauser's Operations App
Our new mobile 'Operations' app offers fast access to a device-specific information on the go.
Scan the QR-code to download the Endress+Hauser Operations app and get mobile access to up-to-date and comprehensive information about your installed Endress+Hauser instruments - wherever you are, whenever you need it.
Benefits
Mobile access to up-to-date information about your installed instruments. Get product information & device details e.g. order code, spare parts, new products for old devices & product information
Device information on a go - Endress+Hauser operations app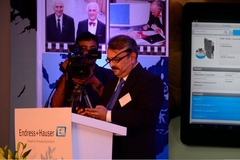 The Endress+Hauser Operations app allows you to more quickly download specific documentation such as operating instructions and technical information for your Endress+Hauser's field instruments. You can gain easy and quick access to up-to-date product information and details such as order code, availability, spare parts, successor product and general product information. Simply enter the serial number or scan the data matrix code on the device to download the information.